Giving Tuesday December 1st, 2020
Cubs Give Drive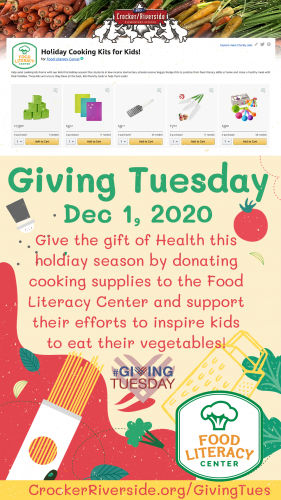 Giving Tuesday is a global day of generosity that will take place on December 1, 2020.
Giving Tuesday was created in 2012 as a simple idea: a day that encourages people to do good. Over the past nine years, this idea has grown into a global movement that inspires hundreds of millions of people to give, collaborate, and celebrate generosity.
This Giving Tuesday Crocker/Riverside will hold their Annual "Cubs Give" Drive. We are excited to announce that we will be partnering with the Food Literacy Center.
Food Literacy Center's mission is to inspire kids to eat their vegetables. They teach children in low-income elementary schools cooking, nutrition, gardening, and active play to improve our health, environment, and economy. Did you know that only 4% of kids eat enough veggies and 1 in 3 may develop type two diabetes? Healthy eating is the most effective way to prevent diet-related disease and hands-on cooking encourages kids to taste and eat their veggies!
Crocker/Riverside's "Cubs Give" Drive will help provide Holiday Cooking Kits for the kids so they have all the tools they need to make a healthy meal. From kid-safe plastic knives to measuring cups and spoons, the colorful kit will bring smiles to our kids' faces. The kits are paired with fresh veggies and supplies to cook a recipe at home with their family.
Purchase kit supplies via Amazon at http://bit.ly/cookingkit, or, if you would rather donate the $26 to provide a cooking kit and not purchase through Amazon, you may donate here: http://weblink.donorperfect.com/support Find out more about Food Literacy Center at www.foodliteracycenter.org.