Giving Tuesday "Cubs Give" Drive
Benefiting Front Street Animal Shelter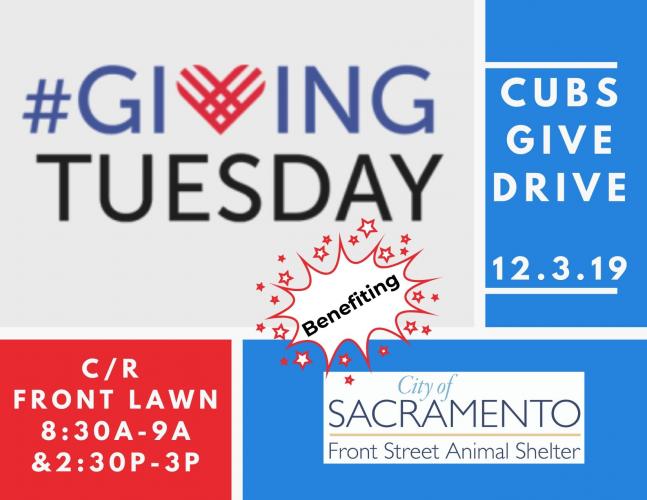 Your passion to help Crocker Riverside can go further on #GivingTuesday. On December 3rd, 2019 we are joining a National day of generosity - #GivingTuesday. It's a day when we can make a big impact on Crocker Riverside.
Crocker Riverside will be hosting our annual "Cubs Give" drive benefiting Front Street Animal Shelter on #GivingTuesday.
How can you be a part of it?
Bring a donation of dog & cat food, blankets & baby blankets, unscented baby wipes, heating pads, dryer sheets, dog/cat toys, PetMate 2 door carriers, and more. See wish list here.
Consider making a C/R Annual Fund gift on #GivingTuesday. https://www.crockerriverside.org/annual-fund
Help get the word out on Social Media using Facebook and the hashtags #GivingTuesday,#cubsgive, and #crockerriverside
Share with Family, Friends, and local businesses
Take photos on #GivingTuesday and post them on the Crocker Riverside Face Book Page
Do something kind for another person
The Front Street Animal Shelter takes in over 10,000 pets every year, many of them homeless, sick and injured. The shelter relies heavily on donations to provide medical care, food, supplies, and other resources to give animals a second chance at life with a loving family.