Band
Music can be an important part of a child's life and studies have shown that music improves a child's intelligence, grades, behavior, and self-confidence. The Crocker/Riverside Band is a great opportunity to learn how to play music and to work together as a team.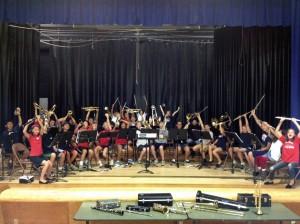 Beginning Band: Anyone new to band or starting a new instrument
Advanced Band: Anyone who was in band last year and will be continuing on the same instrument
Who: 4th-6th grade students
When: Band meets before school in the auditorium 2 to 3 days per week (detailed schedule to come).
Cost: 2 payments of $150 OR $40/month (Full Scholarships available)
Instrument required - Limited school instruments available.
Students can learn one of the following instruments:
Flute
Clarinet
Saxophone
Trumpet
Trombone
Percussion
Sign up: CrockerRiversideBand.org
Information about the Instructor:
Stephen Bingen has been teaching the band at Crocker/Riverside for 7 years and has also taught at O.W. Erlewine Elementary, Sutterville Elementary, MLK K-8, and the Sacramento Youth Band. He also works full time as the Recording Engineer and Tech Support for the UC Davis Department of Music. Learn more about Stephen Bingen by visiting the "About Mr. Bingen" section of the band website.