Bike to School Day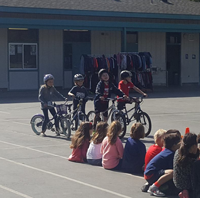 Crocker Riverside's Annual Bike to School Day is coming on May 9, 2018.
We are promoting bike riding for the entire month of May with the big event kicking us off. Dust off those bikes and helmets and grease up those gears. Let's get pedaling in May!
As always, the class with the most amount of participants will earn the highly esteemed "GOLDEN HELMET AWARD". This entails not only bragging rights and hanging the golden helmet in your child's classroom, but also enjoying additional treats & prizes as well!