Choir/Singing Cubs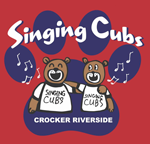 Join the Singing Cubs Choir for another fabulous choir session. Students learn vocal technique, including proper breathing, voice production and diction, while singing fun songs which will be performed at two concerts.
Who: Open to 2nd through 6th graders
When: Wednesdays from 3:30 p.m. – 4:30 p.m.
              February 21st – May 23rd, 2017
Where: Crocker/Riverside Auditorium
Concerts: Spring Concert in the School Auditorium 
                   Community Performance Opportunity (TBD)
Instructors: Casey Lipka and Kami Davis
Fee: $120
Space is limited to the first 45 choristers!