Jog-a-thon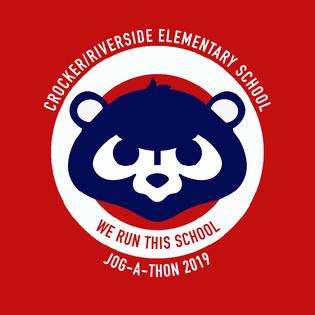 The 14th Annual Crocker/Riverside Jog-a-thon was held November 1, 2019. Donations must be turned in by Wednesday, November 13 to be included in our incentives contest!
Thank you to all that participated and contributed! Money raised this year will go towards our art and music programs.
The students will walk/jog/run the 1/8-mile soccer field as many laps as they are able to in their allotted time. All students will receive a special T-shirt, regardless of pledges collected, thanks to our generous sponsors. We will provide water, fruit, and bagels after each grade finishes their run. Please have your child wear comfortable shoes to run in.
If we meet our school goal of $40,000, the school earns a Free Dress WEEK and an extended morning recess on November 15!
The top earning primary class (K-3) and intermediate class (4-6) earns a Smoothie Party! The top individual earner per class earns a special lunch with the teacher! And the class with 100% pledge participation receives 1 homework pass per student (with teacher approval)!
And, finally, there are special prizes for participation for every student beginning at $25 of funds raised. If each child raises $50, we will almost reach our school goal! Let's shoot for the stars and earn all the prizes!
Event Chair: Ellen Moore